Artlab
ArtLab is a collective of setters, we train in the craft of shaping. The setters can then push the boundaries of their creativity of setting.
The team
Mike Fuselier
A former high-performance climber and world cup medal winner, Mike is above all an outdoor climber with many routes in the 9th degree to his credit. Following a serious accident, he moved to Grenoble and became coach of the French team. A handyman at heart, he always has ideas to contribute to the ArtLab. He created the Slopes and Slices, innovative slope adjusters that help him in his coaching work.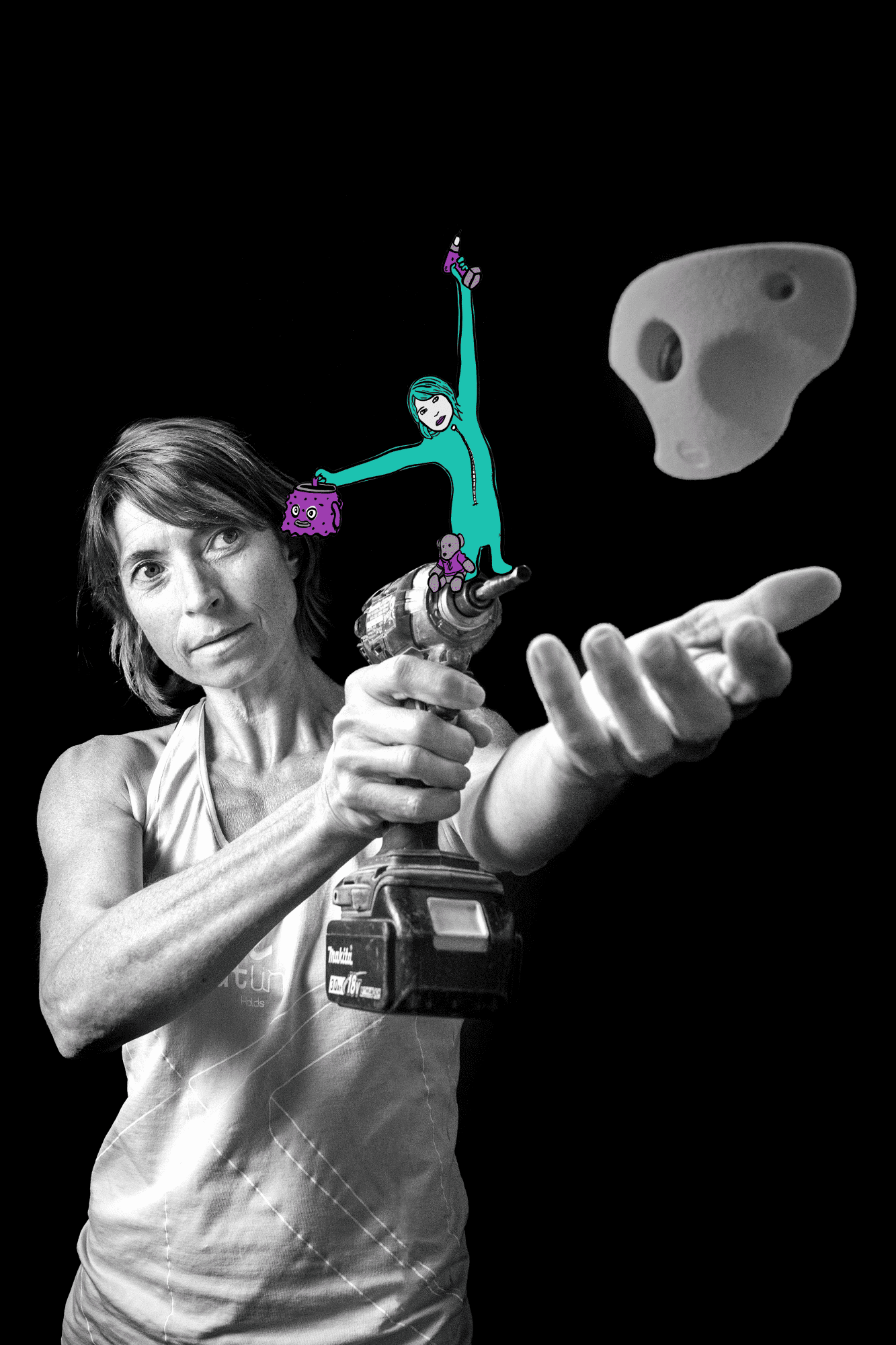 Chloé Minoret
A high-performance competitor and former European champion, Chloé won numerous lead competitions before becoming a mum as well as an accomplished route setter with the Climb Up team.
Thanks to her great experience on rock and her gestural range, she sets aesthetic and technical routes, which she describes as a feminine style of setting, less about strength and more about strategy. Together with ArtLine, she helped create the FirstLine range, which is aimed at children.
Jérémy Tonneau
Jérémy discovered climbing at the age of 12, in the Pas de Calais. Which demanded a fair measure of motivation!
After a period building climbing walls, he became a national route setter and arrived in Millau as a setter / instructor. With the Couleur Caillou club, he organised French championships and a world cup where he made his mark as a setter.
At the same time, he likes to recharge his batteries on the beautiful Tarn, Dourbie or Jonte crags. He was part of the team that created ArtLine's Woodline range of volumes.
Clément Lechaptois
Clément is a very gifted professional climber. A seasoned traveller, he goes around the world in search of the toughest problems, up to 8c+, which makes him one of the strongest boulderers of his generation.
At the same time, he is a freelance route setter. His base camp is in Annecy and the Salle Atome hall in particular, where he tries out new movements and trains for outdoor projects. Along with ArtLine, he worked on the Artboard, a comfortable and effective training hangboard.
Romain Cabessut
Romain discovered climbing at the age of 11 and quickly made it into the French team. At the age of 25, he decided to turn to setting, where he quickly excelled, chalking up federal certifications and reaching every setter's grail: international route setter.
His new status enabled him to set for the biggest competitions, including several world cups, and then he had the fabulous experience of being selected to set for the Olympic Games in Tokyo.
This father of two little girls ended up settling in Tarbes where he became the head setter in the L'Usine climbing hall. He is a consultant for Artline and helps us develop competition-oriented products.
Christophe Picard
Christophe started shaping in 1993 for himself, then as a professional activity from 1995. Since then, he has spent countless hours cutting, planing, sanding, drilling… thousands of holds for the pleasure of climbers the world over.
His style of shaping is not performance oriented. On the contrary, his style of shaping is aimed at leisure climbers of all levels, as he prefers to share his passion with as many people as possible..
Christophe lived for a long time in Fontainebleau, where he drew his inspiration. He liked to climb there, of course, but also to walk around the site to get new ideas. He now lives in the United States, looking for new challenges.