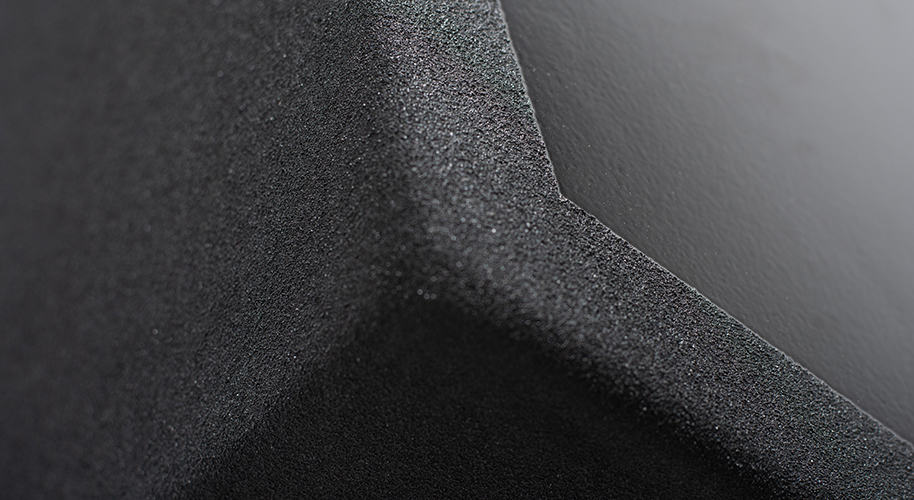 Technology
Our ambition is to develop high-performance, innovative products so as to best meet your requirements. ArtLine products comply with EN 12572-3 requirements and enable you to enjoy the best that technology has to offer while climbing in complete safety.
Polyester (PE)
Polyester is a plastic resin that is mainly used in the textile industry.  It is the most common resin in hold manufacture in Europe.  To the resin in its liquid form we add sand, colouring pigment and a hardener (catalyst).  The mortar is then poured into a mould, and the substance hardens into the shape of the hold.
Characteristics:
Used for beginner to intermediate levels, sizes S, M and L
Long service life (5 to 10 years) even with intensive use
Excellent quality/price ratio
« Rock-like feel » thanks to the sand content
Poor resistance to impacts and deformations
Unstable colour when subjected to UVs or frequent washing
Polyurethane (PU)
Polyurethane is a plastic resin that became very popular in skateboarding in the 1970s.  It is the most commonly used resin for making holds in the USA.  The process is the same as for polyester except sand is not required.  This means it can be lighter and more flexible.
Characteristics:
Used for experienced and expert levels, XS and XL to XXXL
Lightweight, making it easy to mount the larger holds
Its flexibility enables it to absorb impacts and deformations
More expensive than polyester (+15 to 20%)
Plastic feel
Unstable colour when subjected to UVs or frequent washing
All of ArtLine's polyester holds, from size M and up (Ø > 8 cm), use the Safety System.  Should a hold accidentally break (most often during installation), only very small pieces will break off, with no risk to users on the ground.
ArtLine holds are equipped with the Insert System, meaning they are compatible with both flathead (CHC) and countersunk (FHC) screws.  Our inserts also provide better distribution of forces on the base of the holds, which improves their resistance.  It is important to use the recommended torque depending on the size of the holds:
10 Nm for XS and S
20 Nm for M to L
30 Nm for XL to XXXL
The systematic use of percussion screwdrivers, as opposed to Allen keys, generates torque that is far superior to manufacturer recommendations.  For smaller holds (XS to S), this can create tiny micro-cracks, which can lead to breakage.
Fibreglass macros
Composite, also known as fibreglass, is used in the aeronautics and marine industries.  The process consists of laying several layers of fibreglass or carbon fibre material, depending on mechanical constraints, into a mould.  The layers are bonded by injecting resin (polyester or epoxy) to form a composite substance.  This technology enables the production of lighter holds that are very resistant to bending.  The fibreglass process also opens up the scope for creating innovative shapes.
Very often composite macro holds have what is called a « positive » texture, unlike most holds, which currently have a negative texture.  The advantage of positive texture is its abrasive surface, which does not tend to clog.  On the other hand, the service life will be shorter than with a negative texture, which will better stand up to abrasion over time.
Wooden volumes
ArtLine's wooden volumes are produced by a German company.  Hence the remarkable quality of finish, meaning that they are very hardwearing over time.  They are made from 18mm birch plywood, making them more resistant to variations in humidity.  The boards are cut out with great precision thanks to a digital 5-plane CNC.  They are then assembled, glued, and resin-sandblasted.  The resulting grain is the fruit of many tests to ensure good adherence, while not being too hard on the skin.
In the volume market, we frequently see premature damage to screw-holes due to the intensive use of screwguns.  This is why all of ArtLine's volumes are equipped with threaded metal inserts (Insert System), prolonging their service life.  To mount them, we recommend using Torx woodscrews with minimum diameter of 5mm, and a length of 70mm.
The majority of our volumes are equipped with T-nuts, regularly spaced screw inserts, to the tune of 25/m². They enable the addition of extra holds, in particular for route setting.  Each one is counter-screwed to ensure they are correctly supported throughout their use and to enable their replacement if the thread becomes worn.
Please note that we also offer, as options:
CHC (Bolt-on) mounting for concrete artificial climbing structures.
A cable-based safety system, which guarantees that if the volume is ripped off, it still remains connected to the wall